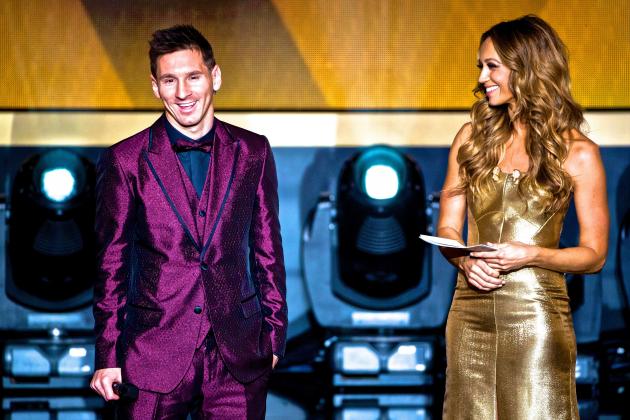 It has been an interesting 10 days for Lionel Messi, which culminated in his arch-rival Cristiano Ronaldo claiming the 2014 Ballon d'Or trophy.
The Argentine was present in Zurich to witness Ronaldo claim his second consecutive title and third overall.
Of course, the Portuguese forward is still one behind Messi, although his ruthlessness will lead him to dream of that fourth award this time next year.
Meanwhile, there appeared to be an acceptance from Messi that he wasn't going to be standing on the stage at the final announcement.
He will know better than most that he can perform to a higher standard.
When he won the 2012 edition, he was quick to play down its importance, as he stated: "I'm more interested in team awards than individual awards," via Bloomberg.
"There were other years when we won more trophies, so they were better," added Messi.
Last year there no awards in any sense, which will inspire the attacker to come back even stronger.
Barcelona as a club are in total disarray, but with presidential elections brought forward to the end of this season, there's a light at the end of the tunnel.
The speculation over Messi's future will likely continue as he flirts with the prospect of making a move to strengthen his position further.
"I'm sure a lot of clubs would love to have Messi, but he is our player," said current president Josep Maria Bartomeu recently, via ESPN. With the Catalans banned from signing players in the summer, it would take a very brave or even stupid president to sell one of the world's greatest-ever players and not be able to reinvest the money immediately.
That means Messi will almost definitely persevere at the Camp Nou, and his performance against Atletico Madrid illustrates a good understanding developing with his fellow strikers.
His link-up play with Luis Suarez and Neymar could see him return to his previous best, although Luis Enrique might not be at the helm.
Ronaldo was consistently excellent in 2014, but his injury mismanagement almost cost him dearly. He missed the Copa del Rey final and wasn't fully fit throughout his time with Portugal at the World Cup.
While Messi insists on playing continuously, he has been advised on how to manage his body during matches.
"He can't be up and down all the time, because his muscular typology is not suited to such physical demands," explains Juanjo Brau in fellow Bleacher Report writer Guillem Balague's book on Messi (per The Telegraph).
Messi might feature more than Ronaldo in the coming 12 months, but his greater knowledge of his own limitations could be crucial.
One significant advantage for Messi may be the Copa America tournament in Chile. Ronaldo doesn't have an international competition this year, while Messi will be determined to guide his national side to success after narrowly missing out in Brazil.
Argentina are one of the favourites for the event, and an outstanding display would go some way to improve his already distinguished legacy.
The relationship between Ronaldo and Messi is unique, as they spur each other on to greater levels. At times it almost seems that they arrange their feats together and then simply perform them to a wider audience.
Messi has continually shown that he can raise his game to meet new challenges, and this will be one of those occasions.
If Enrique's decision to leave Messi out against Real Sociedad hurt the player's pride, that has nothing to what he will feel right now.
Messi will make 2015 his and pull away from Ronaldo just as the Los Blancos forward has him in his sights.As fans of FIFA and FIFA 15 coins player ,this excited to me!